MORE SLEEP FOR YOUR TODDLER
Let's fix this problem. Just $59.99
With the Hush Buddy™ Sleep System, you can transform bedtime for your toddler age 2 to 4+ from screaming, to dreaming… in minutes!
The key is Whisper, our lovable intelligent nightlight, our imagination-capturing storybook, and a parent's guide based in behavioral and sleep science, to make bedtimes better!
30 DAY MONEY BACK GUARANTEE!
YOU HAVE NOTHING TO LOSE BUT THOSE BAD BEDTIMES!
Whisper, the Hush Buddy works with white noise machines!
THE SCIENCE BEHIND HUSH BUDDY
REACTION TO SOUND
Whisper, the Hush Buddy provides a gentle consequence to disruptive behavior. Whisper dims briefly to about half brightness when there's excessive sound like crying or fussing (but is not triggered by white noise machines). That subtle visual feedback to the child is immediate and consistent-- two keys to behavior modification.
CALIBRATION
Whisper, the Hush Buddy calibrates to other sounds in the room like white noise machines, fans or music. Whisper only dims when sound level rise above the normal level of sound in the room.
AMBER LIGHT
Whisper, the Hush Buddy's amber-colored light supports production of the sleep hormone melatonin, while the consistent "always on" design ensures your child won't wake up in a room that looks different from when they went to sleep. That consistent sleep environment helps reduce middle of the night visits to your bed!
EMOTIONAL CONNECTION
Our bedtime story promotes a loving bond between your toddler, and Whisper.  By engaging your child's imagination, the story gets them on board with quieter bedtimes.  
PROVEN STRATEGIES
Our parent's guide gives you science based strategies based on DECADES of research. These strategies, when coupled with Whisper, the Hush Buddy's interactive response to sounds, have proven to be 90% effective.
a gift grandkids (& their exhausted parents) will love!
WHAT CAN LACK OF SLEEP MEAN FOR YOU?
More arguing
Reduced intimacy
Depression
Weight gain
Suppressed immune system
(PSST... IT DOESN'T HAVE TO BE THIS WAY!)
3 STEPS TO HELP YOUR TODDLER SLEEP
First, you set up our intelligent nightlight, which calibrates to normal room sounds like a white noise machine. After that, it dims briefly to about half brightness when there's excessive sound above the normal level.
Then follow our Parent's Guide, giving you bedtime superpowers based on time tested and scientifically measured sleep strategies. 
At bedtime, you'll read our story book to engage your child's friendship with "Whisper, the Hush Buddy", our glowing nightlight character who reacts briefly to sound, like fussing, and gently reminds them of the importance of quiet at bedtime!
Whisper, the Hush Buddy gently reinforces the importance of quiet time by dimming briefly to about half brightness if the child is too noisy. You'll have peace of mind know they're getting the sleep toddlers 2 to 4 need!
a year of sleep for just 22¢ a night!
Whisper, the Hush Buddy Sleep System
The Hush Buddy Weighted Hug Blanket
The Hush Buddy Sleep and Snuggle Kit
HELP YOUR TODDLER STAY IN BED
The key to stop middle of the night wakings is by focusing on the BEGINNING of the night.
If your toddler is coming to you in the middle of the night, it's likely because they believe YOU are needed for them to fall asleep, perhaps because they're used to you laying down with them at bedtime. With the help of the Hush Buddy Sleep System, you'll help your toddler age 2 to 4+ to learn they can go to sleep independently.
Once a child learns to fall asleep independently at the beginning of the night, they are more likely to go back to sleep in the middle of the night (and not wake you up!)
Plus, Hush Buddy doesn't power off after bedtime like many other products, so the sleep environment remains consistently comforting all night long.
a great gift for exhausted parents!
HOW THEY CAN FEEL HUGGED ALL NIGHT LONG
Imagine being wrapped in luxurious minky cotton, while your Hush Buddy Weighted Hug Blanked gently feels like a hug that lasts all night long.
How can bedtime be any better? Well, how about a delightful storybook about the blanket?
"Whisper and the Hug Blanket" will engage your child's imagination and remind them they are surrounded by loving hugs.
If your toddler is anxious about bedtime, give them the comfort of the Hush Buddy Weighted Hug Blanket for children 30 lbs+.
YOUR TODDLER'S SLEEP IS VITAL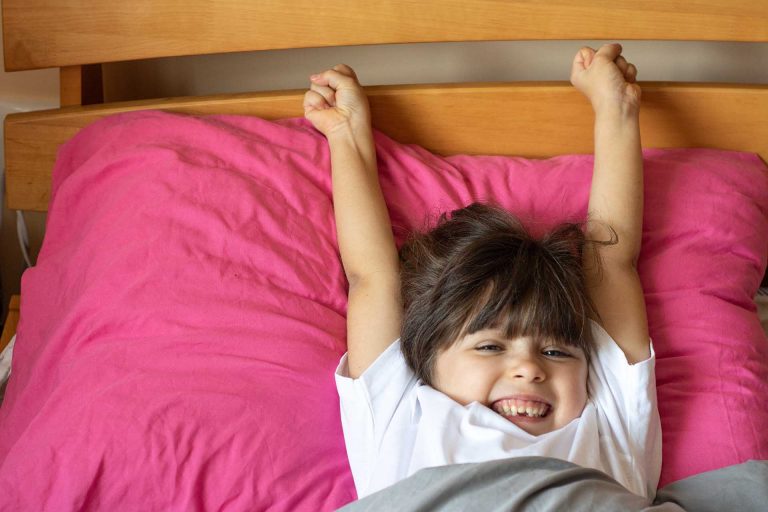 When a toddler ages 2 to 4 sleeps, the brain is forging cognitive pathways that they'll use for the rest of their lives.
Studies show children who get 12 to 14 hours of sleep between the ages of 2 and 4 enjoy LIFELONG benefits. They grow up to have better focus, better behavior, better grades in school and even better physical health than if they'd gotten even one hour less sleep each night.
By giving your toddler better bedtimes, you're giving them a better life!